Over the last several weeks, we have seen a good turn over of residents in Pay For Stay at Higher Ground St Paul.  Last night I confirmed with Catholic Charities staff that those individuals who are no longer with us have, in fact, successfully secured independent housing.  Some are up stairs and some have moved into affordable housing in the area.  Currently there is a waiting list of 35 individuals ready to move onto PFS among them, Sully.  What we do in the simple act of serving food and friendship each night, is making a difference in the lives of those we serve.  Keep up the great work!  Review and schedule your volunteer time at our sign-up calendar.
As many of you know, on Wednesday evenings each week, we serve those from floors 3 thru 5 as well.  Most of those evenings we simply serve dessert in the Common Room.  But 1 Wednesday evening each month, we serve a full dinner to everyone.  The events are well attended creating truly an excellent social opportunity for residents as well as volunteers.  Lots of old faces from overflow, men like Mike and Mark and Tim who now live upstairs.  If you haven't experienced a Wednesday evening, give it a try.
Weekends still remain a bit more difficult for us to fill with volunteers.  Several couples have begun to make it a "date night" and we'd encourage you to consider the same.  Thanks!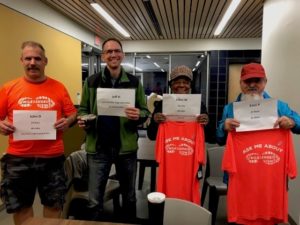 We began a running club this summer called Mile in My Shoes, that met twice a week and participated in numerous runs throughout the Twin Cities.  Warren, Jason and John were among about 15 regular runners who participated.  Please congratulate them next time you see them.  The club will run through November and then be on hiatus till March 2018.
As our families gather to celebrate the holidays, let us not forget how lonely homelessness can be particularly at this time of year.  FDD is providing essential support in so simple a way.  Please be sure, now more than ever, to truly share your time with those we serve by sitting and eating together, by listening more than speaking and by simply being present.
AMDG
Steve Hawkins