Located on and around the existing Dorothy Day Center site in downtown Saint Paul, the new vision is a two-building solution. It is designed to prevent and end homelessness for those most in need by focusing on two key components which do not exist sufficiently in our region today:  1.) More affordable permanent housing and, 2.) Dedicated self sufficiency services that will create true pathways out of poverty and homelessness.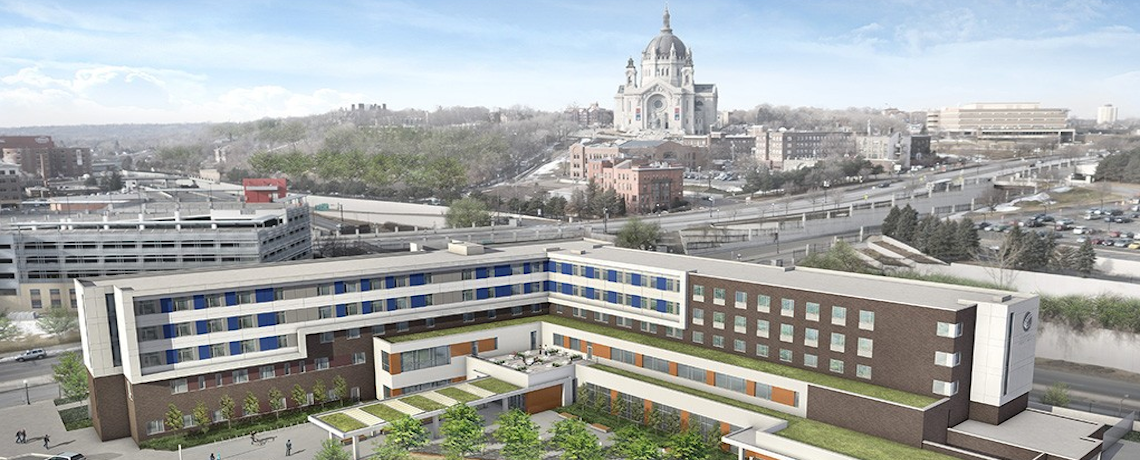 Phase 1 — Higher Ground Saint Paul — will provide dignified emergency shelter for 280 women and men and a range of permanent housing options for 193 people who were formerly homeless.
Key Shelter and Housing Services
Medical care for homeless men and women with significant health issues—a room of their own where they can heal under the care of nurses
Specialized housing and assistance for women suffering from substance abuse
Pay-for-Stay beds that have a minimal fee, which is held in savings for clients and can be used for a first month's rent or down payment to a landlord
Phase 2 — Saint Paul Opportunity Center and Housing — located just across the street from Higher Ground Saint Paul, the Saint Paul Opportunity Center will be an integrated one-stop location connecting people to critical services offered by both Catholic Charities and a diverse range of other organizations and partners across Greater Minneapolis/Saint Paul to improve their health, income and well-being. Service delivery at the Saint Paul Opportunity Center will feature partner organizations in the community, including Ramsey County, the Veterans Affairs, health care providers and many others. Above the Saint Paul Opportunity Center, there will be a range of permanent housing options for 170 people who were formerly homeless.
Key Saint Paul Opportunity Center Services
Physical, mental and chemical health care services
Employment training programs and job search assistance
Housing search and placement services
Access to veterans' benefits, food and nutrition benefits, Medical Assistance and other supports
Financial and legal support services
Nutritious meals, showers, laundry and storage
A Proven Solution
The new vision for the Dorothy Day Center is based on the model of Catholic Charities Higher Ground and Opportunity Center in Minneapolis. Opened in 2012, Higher Ground includes dignified shelter on the main floor and permanent housing on its upper floors. Nearby, the Opportunity Center provides access to employment, health services, veterans' benefits, and other resources in collaboration with other agencies and not-for-profits. These programs offer pathways out of poverty, serving those most in need, regardless of faith or background.
—————
Learn about the volunteer role at Higher Ground thru Friends of Dorothy Day.
Save
Save
Save
Save
Save
Save